Process management, also known as business process management (BPM), is a methodology that allows business owners and managers to analyze existing processes to identify those with problems and optimize the rest. This may require tweaking current processes or implementing new, more effective ones. The ultimate goal is to increase productivity, manage risk more effectively, and streamline the entire business. Effectively managing your business processes allows your company to build on past successes while continuously moving forward.
Many people confuse the terms process management and project management, but they do refer to completely different beasts. The first is a management style that leads to future growth and continuous improvement. The latter is only relevant to the individual project(s) currently being worked on.
Project management refers to the management of a specific project with a clear-cut goal. It includes everything from the idea to completion, and in most cases, it will follow the project management style set by the company as a whole.
However, projects have a clear beginning and ending. Process management is an ongoing approach to continuously improve every aspect of the company and includes ever-evolving goals.
Effective process management creates a workplace environment that fosters innovation and teamwork. When properly implemented, it gets everyone from the summer intern to the C-suite managers moving in the same direction with a common set of goals: the future success of the company, the team and the individual. Monday.com training that includes process-focused methodology can help you to achieve these goals.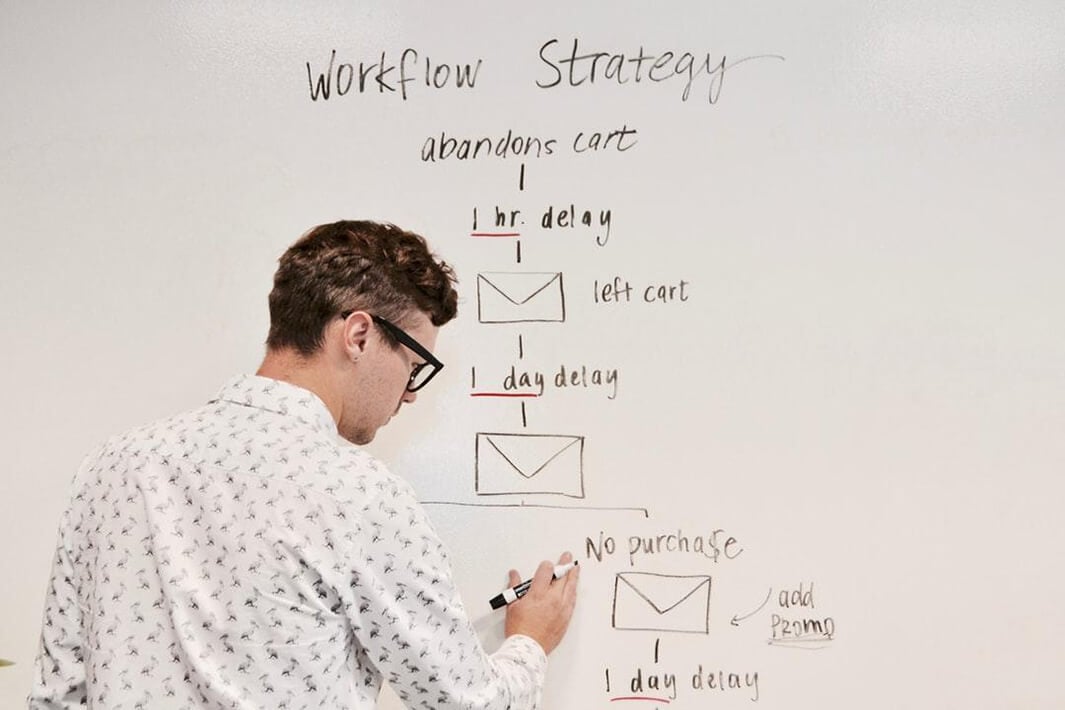 How Can monday.com Make Process Management Your Company's Superpower?
The foundation of effective process management is built on six key steps:
Design: This step involves finding the existing business processes in need of improvement. There likely are many of these, so you may have to prioritize to work towards the most important goals first.
Modeling: This step involves analyzing the processes you hope to improve. Thoughtfully breaking them down and openly discussing them gives all team members the chance to see the reasons why things were done that way in the first place. Once everyone has a clear view, they can better develop ideas about how to improve things in the future.
Execution: This is the step where you get to put all of the suggestions (just the good ones) into practice.
Monitoring: This step happens simultaneously with the execution step. Here, the new process being implemented is watched, and data is analyzed to see if the changes implemented have the desired effects. If the changes to the business processes don't produce better results after a short transition period, then it is back to step two.
Optimization: If the changes are successful, now is the time to make them a permanent part of your constantly evolving BPM.
Repeat: No matter how well your changes are working, there is always the opportunity for further improvement. Be prepared to revisit any process in the future as new technologies, ideas, and practices come into play.
It takes a lot of work to create and maintain an effective focus on improving your business processes and managing them. Thankfully, monday.com has the software and expertise to help you make it happen. The monday.com Work Operating System (Work OS) software makes it easy to identify areas where improvement is needed, then brainstorm solutions, track the effectiveness of improvements, and see the big picture.
Managing everything in one platform can help you bring people together for the parts that require teamwork and automate the parts that do not. Every step of your workflows can be streamlined while boosting accuracy and effectiveness.
Here's What monday.com Services Can Do
Here are some of the applications of monday.com's business management software platform:
Workflow Automation
Several individuals or teams will likely have to take the lead as your company travels through the steps of process management. As problems are identified, ideas start rolling in, and changes are implemented, information will have to travel back and forth between team members.
With a bit of planning at the outset, the flow of work from one team or individual to the next and back again, if necessary, can be handled easily with monday.com automations, without the need for human intervention. This streamlines the whole process and prevents delays due to human error or distraction.
Real-Time Collaboration
Monday.com makes it easy for team members or your entire staff to cut through the background noise and have real-time conversations about specific areas of the process. This ensures that everyone can be kept up-to-date and makes it easy to collaborate on relevant information without distractions.
Customizable
The most powerful feature of the software platform offered by monday.com is that it is fully customizable. Throughout the platform, monday.com's UI can be adjusted to meet the needs of a small business just as easily as it can tackle managing processes for a large corporation.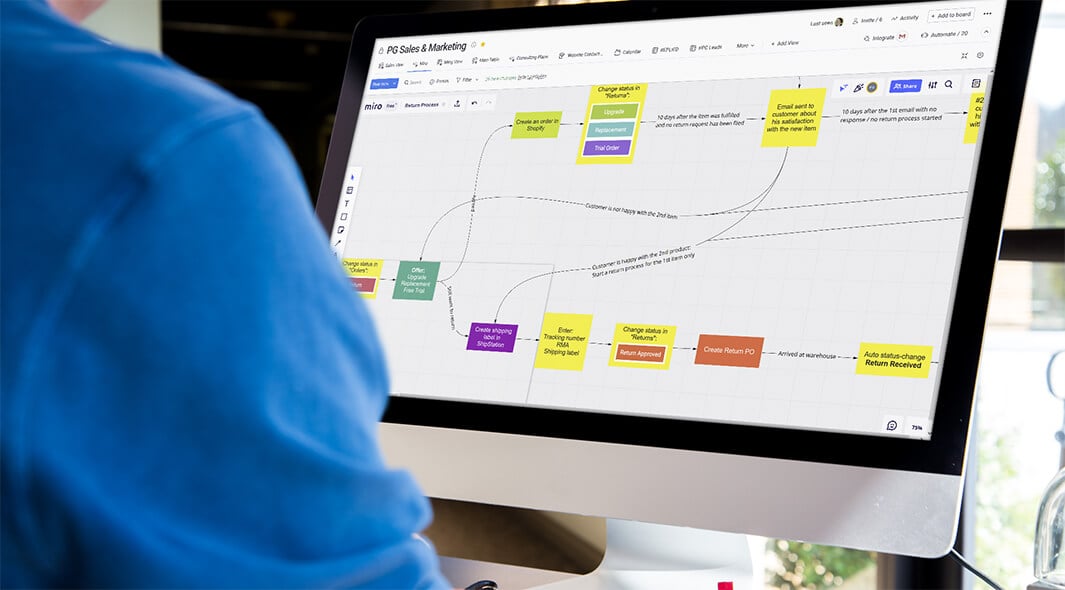 Adaptable Visualization
Not everyone's brain processes information in the same way. For some, a flow chart is all they need to understand the concepts and evolution of the information it contains. Others do better with a card view, or a calendar might suit you best when it comes to workflow and production. Monday.com gives you the option of not only seeing the right information at the right time but also in the format that best fits your strengths.
Monday.com in Real Life
Here are some real-world applications monday.com's business process management software can be used for:
Construction Firms
Succeeding in a large-scale construction business means controlling, tracking, and improving upon hundreds, if not thousands, of processes simultaneously. From the earliest stages of deciding where to place the foundation to choosing what color to paint the lobby, monday.com for construction can make the journey easier.
Every decision that is made during a construction project will benefit from improved process management. In addition, monday.com's software enables real-time conversations even if the teams involved with making the decisions are spread out across the globe.
Not only can teams easily collaborate and discuss progress, but all the information needed to make an informed decision can be presented to each of the individuals involved. Everything from the overall goals to the choice of paint can be shown in a clean, easy to digest way.
In addition, as the project moves forward and the processes evolve, it is easy to track which changes are successful and which are not.
New Product Development & Launch
Ensuring the new products you develop live up to your brand's standards is an important aspect of long-term success. No amount of advertising will repair the damage if your company earns a reputation for shoddy workmanship or products that don't live up to your customers' expectations.
It is a daunting task to ensure every new product you create is of high-quality materials to satisfy your market. Yet, once you have a solid product ready to launch, that's only the beginning.
There is so much to create and track to ensure your new product is a success: Product packaging, product documentation, demo videos, website content, imagery, marketing campaigns, social media content, and much more. This requires close collaboration and handoffs across multiple departments and roles: Legal, Product Marketing, IT, Manufacturing, Design and probably a few more areas, depending on the size of your organization.
Monday.com and its BPM software can make it easy to keep track of every single thing you need to launch a newly developed product without a hitch.
Good BPM Software is Great; Process Experience is Better
Software is only as good as the people who implement and use it, and there's a big difference between knowing how to create a monday.com board and how to create an effective monday.com process.
Many people who are quite talented at learning new software have gaps in their process management knowledge and experience, which gets in the way of putting the monday Work OS to its best use. That's why hiring a firm like Polished Geek with business process expertise in addition to monday.com consulting certification is such an essential move to get more ROI from the platform.
Effective business process management may be the single most important factor in determining the long term health of your company. Choosing the right software like monday.com and the right monday.com consulting partner to help you accomplish this goal is one way to keep your company heading for bigger and better things, no matter what size your company is today.
To find out more about how Polished Geek can provide you with the tools, training and expertise needed to create and implement effective business processes, contact us today.