Many companies are adopting process management software to stay on top of their day-to-day tasks. With features built to help run and scale workflows seamlessly, monday.com is an excellent tool for all kinds of businesses, including manufacturers and developers.
Over 145,000 highly competitive organizations such as Hulu, Discovery, and Adobe already use monday.com. Should you use it too?

This simple yet intuitive Work Operating System (Work OS) will allow you to organize work, enhance productivity, encourage transparency, and promote teamwork within your business. Monday.com is a customizable, collaborative workspace that emphasizes transparency and lets you create your own work management applications.
Here's why you should take advantage of the free monday.com trial period and how to make the most out of it.
The Benefits of Using monday.com
Monday.com is a time-saving organization app for businesses and entrepreneurs. It's designed to improve daily routine tasks and make the working experience seamless, allowing you to:
Plan, track, and deliver your teams' best work in one organized and intuitive workspace.
Integrate with your favorite tools in just a few clicks.
Automate repetitive tasks within seconds.
Avoid human error.
Visualize data as a map, calendar, timeline, kanban and more.
Flexibility is one of the main benefits of monday.com. It empowers your teams to create and manage custom work applications for their specific needs.
Monday.com allows you and your employees to create boards with different elements to visualize your business processes. In addition, as a Work OS it gives you a clear overview of all relevant tasks, and lets you monitor your processes step by step.
You always know what's ahead (or behind) so you can stay on top of it all.
With monday.com, you can skip meetings that could have been an in-task update, and prevent painfully long email threads from ever reaching your inbox.
Monday's messaging and notifications are perfect for centralizing all communication and files in one place. Everyone on your team will finally be on the same page at all times, regardless of their location.
The monday.com platform also offers great features for those in your company who are constantly on the go. It even has a mobile app available for iOS and Android users.
A 14-Day Action Plan for Using Your monday.com Trial
Businesses are increasingly adopting platforms like monday.com to boost productivity and encourage active collaboration within teams.
If you're considering joining them and are ready to start your monday.com trial, here's a day-to-day plan to take full advantage of it.
Day 1: Identify the Main Challenges Within Your Organization
To determine whether monday.com is the right solution for your company, you first need to understand your business needs.
Take a bit of time to jot down the specific problems you're facing right now and group them by priority. This will help make sure you don't get distracted during your trial by cool but unnecessary features that don't line up with your business priorities.
Keeping this list of business challenges top of mind will help you better evaluate the platform's many capabilities and determine if they're really right for you.
Day 2: Do Your Homework
Familiarize yourself with monday.com at a high level and take a look at its impressive list of features. Moreover, consult with trusted sources that could give you valuable insight.
For example, visit some software review sites, use search engines, social media, and other platforms like G2 that can give you insights into others' experiences with the monday.com Work OS.
Day 3: Determine What Features to Test
Once you've identified the shortcomings and weaknesses of your business processes on Day One, you'll need to research the features that may be most helpful to you. You can create a list of your must-have technical requirements and compare it with what the monday.com platform can provide.
Day 4: Schedule a Personalized Demo
You don't have to embark on a free trial all by yourself. An authorized monday.com partner like Polished Geek is always happy to support you on the journey and set you up for success.
Book a personalized Q&A session and monday.com demo with one of our certified consultants.
If you choose this option, a monday.com expert will guide you through the initial steps of a demo session and show you how to operate the system. You'll also get to ask any questions that may come up during the previous days of your research.
Day 5: Plan Your Evaluation Approach
Once you're all set up with the demo and gather answers to your questions, it's time to start with the evaluation plan. During this step, it's of paramount importance to align your business needs and challenges with the results of your initial research on monday.com.
Go back to that list of features and functions you want to try and determine which ones you should explore first. This way, you'll have a more organized testing scheme and document your results more efficiently.
Ultimately, the right evaluation approach will ensure you're not missing anything on your path to make a final purchasing decision once the monday.com trial is over.
Day 6: Create a Test User and Run a Project
When starting with monday.com Work OS, you should first try out and test its main features. Like with any other platform, you need to know whether for you, is the system intuitive or does it come with a steep learning curve.
On your sixth day, try setting up a test account and starting a simple project as you would in real life. This will help you estimate how aligned the user experience is with how you want to manage your projects.
Don't forget to evaluate how much transparency monday.com provides, especially when tracking daily team operations. You'll want to check out the different view options, collaboration, and process visualization tools as well.
These are all features you can test out with a dummy project or board. Don't worry about getting it right for now, just see if you feel comfortable with the general user interface or not.
Day 7: Test for Integrations
You probably use a lot of different business tools and solutions to help streamline your everyday workflow. That's why you should make sure your favorites are compatible with the monday.com Work OS. Here are some of the most popular available options:
Outlook & Gmail
Zoom
Microsoft Teams
Slack
Google Calendar
Google Drive and Dropbox
LinkedIn
Quickbooks
Adobe Creative Cloud
Zapier
Tip: Even if you can't find a pre-built integration between favorite tools you use and monday.com, that doesn't mean all hope is lost. Most external systems can be integrated with monday.com without expensive custom development by using the low-code automation platform Integromat.
Day 8: Experiment With the Automation Features
Automation is crucial for today's business operations as it makes life easier for both leaders and teams. Monday.com offers quite a few options you can play around with during the free trial.

We recommend testing as many as you can on Day 8, so you can be sure monday.com automation tools are aligned with your business goals. It will also help you make an informed purchasing decision afterward about which pricing plan to choose, as automation limits do vary by plan.
Day 9: Make Time for Testing Dashboards and Reporting Tools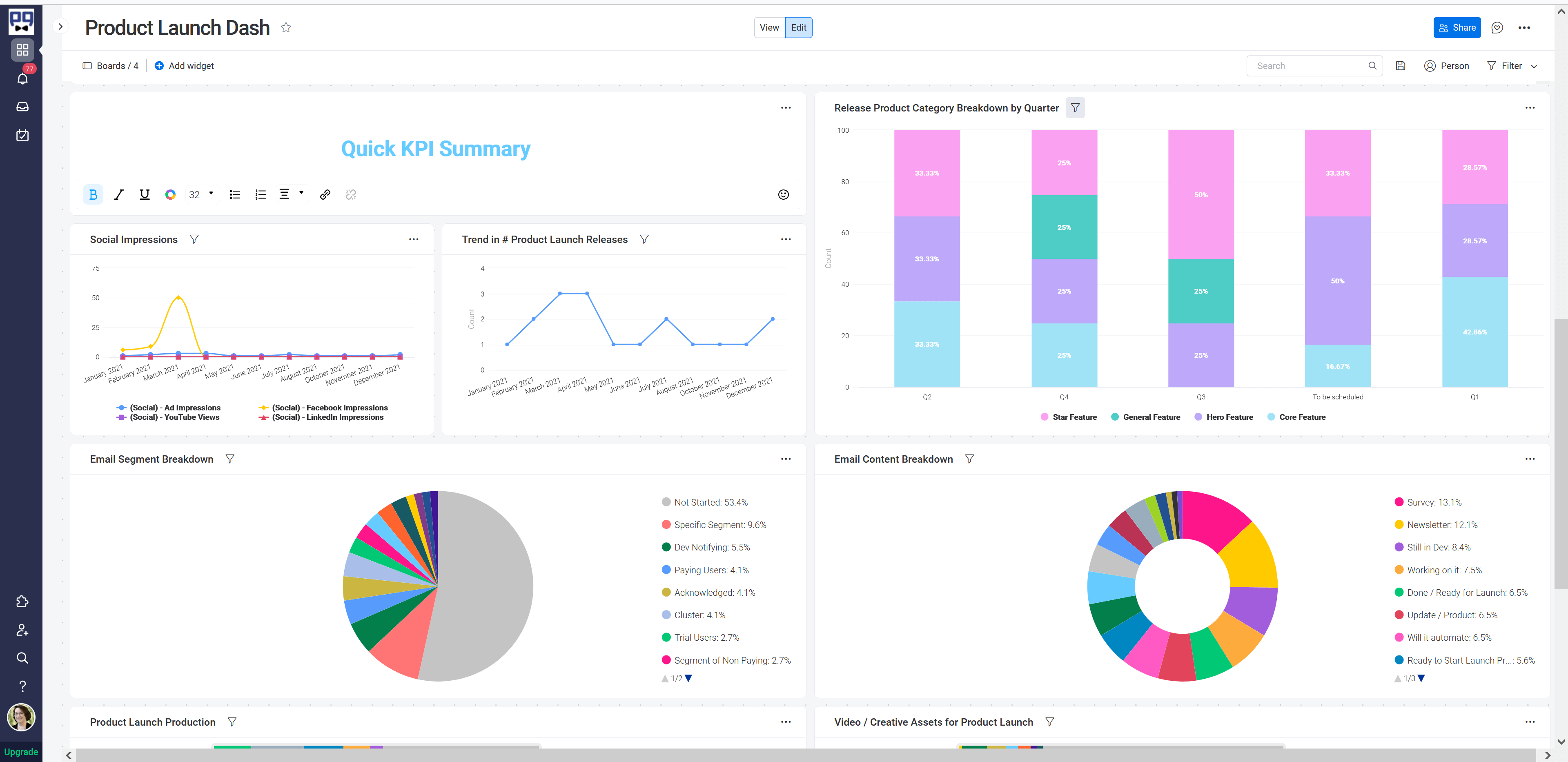 Workflow visualization is one of the best features in process management and automation tools. It's relatively easy to set up new dashboards and reports on your own, but you may find that during your trial it's best to simply tour around the dashboards of a few templates and get a sense of what's possible.
Templates in the monday.com template library have sample data already loaded in them, which makes it easy to see the potential reporting capabilities.
Day 10: Ask Questions
If you're all done with the features and other offerings, it's time to take a pause and reflect on your findings.
Is there anything vague or confusing for you about the Work OS? Don't be afraid to ask questions and express doubts. Reach out to us and our monday.com experts will answer all your inquiries and support you along the way.
Day 11: Take Advantage of Resources and Online Communities
If there's still something unclear at this point, remember you can always turn to the monday.com community to help resolve your doubts.
Monday.com also has a great support site with online resources that can further resolve any lingering concerns.
And you can always write directly to monday's support team through the app or by email at [email protected].
Day 12: Onboard Your Team
When testing a platform that will help you optimize internal business processes, it's essential to get input from others on your team. After all, your co-workers, upper management and employees will be asked to take advantage of the solutions monday.com has to offer. You'll want to introduce them to the concept early and get their impressions and opinions to build a foundation for later adoption.
During the monday.com trial testing, you can add unlimited test users. Stakeholders you may want to bring on include:
IT managers
Technicians
Developers
End users
Department managers
Coworkers
Day 13: Ask for Feedback
Once several interested parties have taken monday.com for a short test drive, you can ask for their opinion about the platform. Make sure to provide a comfortable space for everyone to share experiences. Knowing what your employees think about a tool they'd be using regularly is incredibly important when planning your onboarding and training for a new platform.
Just remember that a lot of people aren't big fans of change. We're all creatures of habit, even if those habits are inefficient or frustrating at times and we wish for something better.
Make sure you communicate to everyone involved the business goals and priorities you determined earlier in the trial, so they have a clear understanding of why you're considering moving to a Work OS.
Day 14: Document Your Findings
Take your last day on your monday.com trial to write down all of your conclusions and any remaining open questions. You should now have well-organized information to help you determine the platform's efficacy in solving the specific business challenges you listed out on day one.
It's normal to have a few remaining questions. Be sure to reach out and book a time with one of our monday.com experts using the link at the bottom of this post if you are still unsure if the monday.com platform will ultimately meet or exceed your expectations.
Ready to Start Your monday.com Trial?
The monday.com standard free trial length is 14 days (no credit card required). That's usually ample time to get familiar with the basics of the platform and see how it could fit into your business. Our step-by-step plan outlined here is designed to help you get the most of your trial period, so you won't become distracted by oooh-shiny! features that might not matter much in the end.
Our monday.com experts are all deeply committed to helping you in making the best possible purchasing decision for your situation. When you invite us along on your trial journey, you'll be supported at every step with clear answers to your questions and candid, transparent monday.com platform advice.
If you're ready to start that journey with us, contact us to set up your personalized trial along with a free, no-obligation Q&A consulting session.